Location: Watts Grocery – Durham, North Carolina
Order: "Fried eggs, over medium"
Egg Rating: 3/5
Meal Rating: 3.5/5
---
I love Durham. It's a city on the rise. A nice balance of hipster chic, southern charm, and research-triangle energy and drive. And there are lots (lots) of great new places to eat.
Some friends suggested we have brunch at Watts Grocery, but made it clear we'd have to get there right when they opened at 11 on Sunday because it would fill up fast. 11am – there we were.
The menu is great – lots of fun options. My son was dying to try the southwestern churros with warm chocolate sauce. Two of our party ordered the grits bowl, and it looked fantastic. My girlfriend and I usually like to split something sweet and something savory, so we ordered the seasonal fruit with granola and creme fraiche, as well as the "Watts Breakfast" – two eggs, choice of breakfast meat (gave to the boy), hash browns or grits (I may be in the south, but I'm still from Idaho. Hash browns please) and a buttermilk biscuit (the south in your mouth).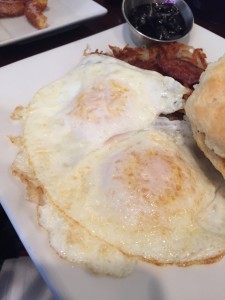 The eggs looked promising. Definitely cooked on both sides, with a little bit of yummy brown on the edges.
Cutting in, the yolks were once again not as firm as I'd like, but they didn't immediately run all over the plate. But is that the standard? My food's not raw, so therefore it's gotta be good enough? I know there's a spectrum, but why not shoot for a solid place in the midst of that spectrum instead of just "this side of runny?"
I'm picky, I know. Why else would I be writing a blog about fried eggs?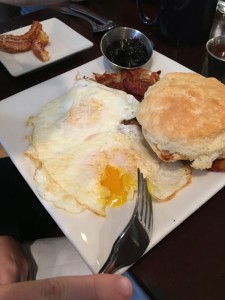 Why are people so terrified of actually cooking an egg? Why not let it sit in the pan just a little longer and get some flavor and crispness? I remain puzzled.
Again, this was a perfectly fine meal. But unremarkable. The biscuit was delicious. The hash browns were actually really good. But the egg is the star, and this egg was a washout. I'd certainly go back to Watts Grocery…but I'd be suspicious.